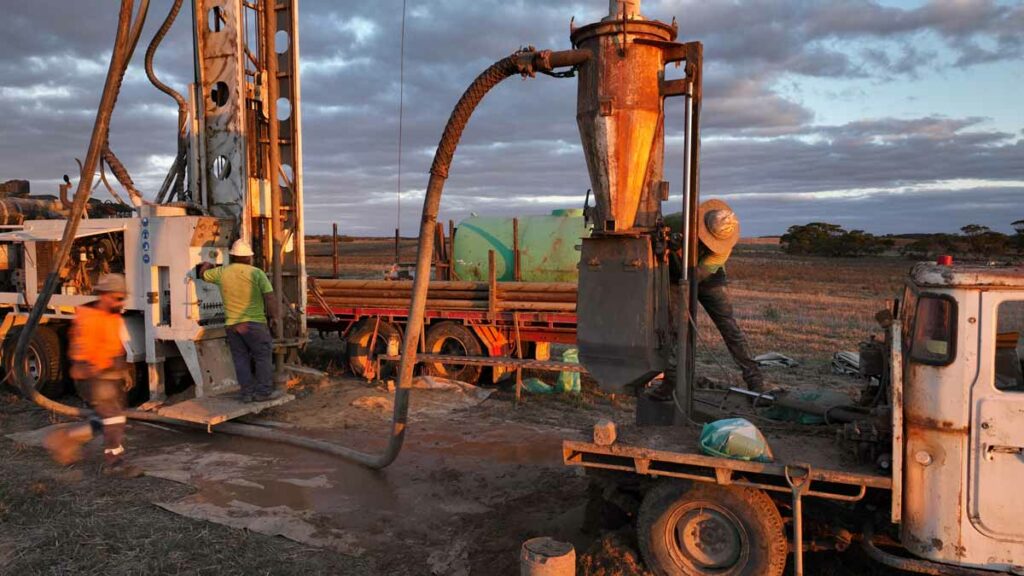 Drilling underway at the Lacroma Graphite Prospect (2023)
 Significant graphite assays from the second traverse at Central Lacroma include: 
o LARC23-028 – 24m @ 8.9% TGC from 20m 
incl 6m @ 13.1% TGC from 38m
o LARC23-029 – 7m @ 9.9% TGC from 52m
incl 4m @ 13.4% TGC from 54m 
and 11m @ 9.3% TGC from 83m 
incl 4m @ 4.6% TGC from 90m 
o LARC23-030 – 9m @ 5.5% TGC from 96m 
and 17m @ 6.5% TGC from 122m 

incl 3m @ 12.4% TGC from 124m 
Mineralisation at this location extends ~300m across strike, from ~20m below surface to >150m deep, strikes NNW-SSE and dips 450 to the east.
A lower grade zone to the west is approximately 90m thick and averages ~5% TGC and a higher-grade zone to the east is approximately 20m thick with grades between 9-14% TGC.
This second traverse is over 1 km south of the first traverse and confirms the extensive nature of mineralisation.
Drilling is ongoing, with approximately 5,550m of planned 10,000m program completed to date.
WATCH: Managing Director Mike Schwarz answer investors questions about the differences between the Sugarloaf and Lacroma Graphite Prospects as well as the importance of the metallurgy in defining a resource.
WANT TO GET INVESTOR UPDATES DELIVERED TO YOUR INBOX?
SIGN UP TO THE iTECH NEWSLETTER