CAMPOONA GRAPHITE PROJECT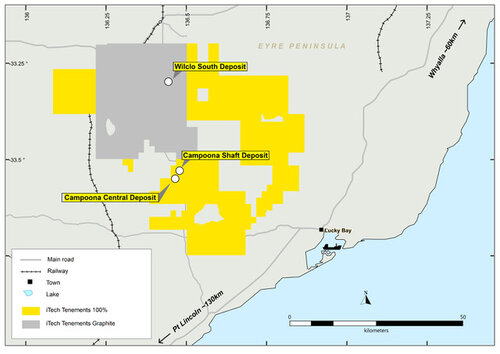 NAME: Campoona
LOCATION: Eyre Peninsula, S.A.
STAGE: Advanced Development
TARGET: Graphite
The Campoona Project is a significantly de-risked opportunity to supply graphite into the growing battery technology market. It has a JORC 2012 Global Mineral Resource of 8.55 million tonnes at an average grade of 9.0% Total Graphitic Carbon (TGC) across three project areas: Campoona, Campoona Central and Wilclo South.
The grant of a mining lease to the Company to process graphite and two miscellaneous purposes licences to transport water from a nearby bore field makes this project well advanced and a high priority for the Company.
iTech is currently conducting a resource drill out at the Lacroma Prospect. It is also working with a number of partners to unlock the Sugarloaf Exploration Target.
iTech has also been working on a research project with ANZAPLAN in Germany to develop a new, more environmentally friendly, process for refining spherical graphite for the battery materials market.
• The Campoona Deposit 
The Campoona Deposit is a JORC 2012 Global Mineral Resource of 8.55 million tonnes at an average grade of 9.0% Total Graphitic Carbon (TGC) across three areas: Campoona, Campoona Central and Wilclo South.
• Lacroma Central
Lacroma Central is defined by an extensive 12 km long airborne electromagnetic anomaly maps an extensive graphitic horizon on EL6634. iTech is currently conducting a resource drill out on the main 2km section of the mineralisation.
• SugarLoaf Exploration Target
iTech has identified a Graphite Exploration Target of 158 – 264 Mt @ 7 – 12 % TGC at Sugarloaf. Previously identified as microcrystalline graphite, iTech believes it has suitable characteristics to be used in the anodes of lithium-ion batteries. iTech is currently working with specialist battery materials consultants, ANZAPLAN, to don extensive program of metallurgical test work to determine if Sugarloaf graphite can be processed for use in the anodes of lithium-ion batteries
• Lacroma North
Lacroma North is just 3.5 km north of Lacroma Central, occurs along the same geological horizon and is most likely an extension of the Lacroma Central mineralisation. It is likely to have similar positive metallurgical characteristics to Lacroma Central with easy beneficiation using industry standard flotation techniques. The electromagnetic anomaly is the same intensity but more than twice the length of the Lacroma central anomaly which suggests more extensive mineralisation. Graphite has been logged in historical drilling in two separate horizons over a distance of >1.2km (Env 3583, SARIG, 2023).
• Balumbah
Balumbah has a very high intensity electromagnetic signature, over 3 times that of Lacroma Central, suggesting potential for higher grades. It has shallow graphite mineralisation intersected in several drill holes over a distance of 1.3km which are coincident with the AEM anomaly (Env 3583, SARIG, 2023).Balumbah North appears to be an extension of Balumbah graphite mineralisation but has never been drill tested. Together they constitute a drill target over 5 km long.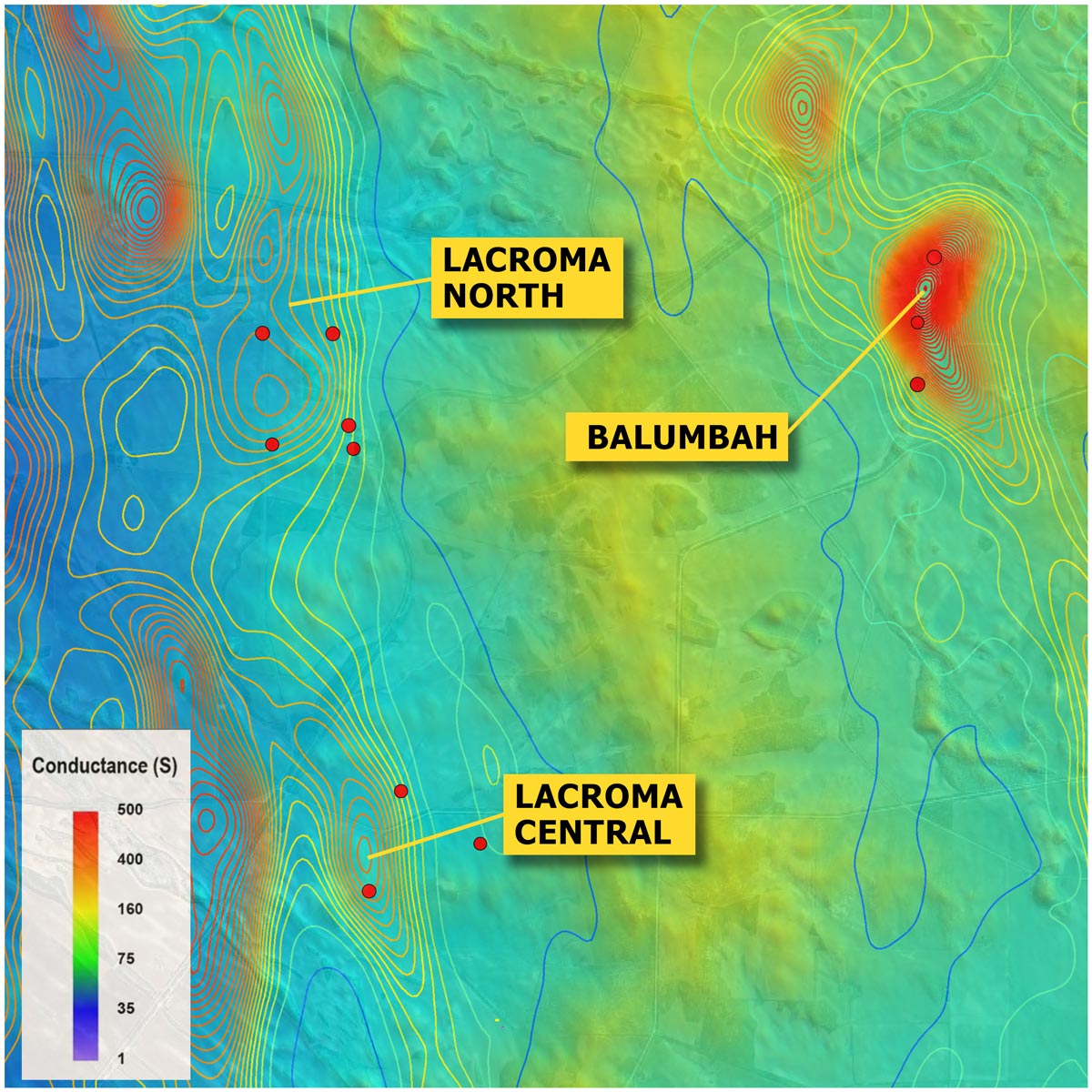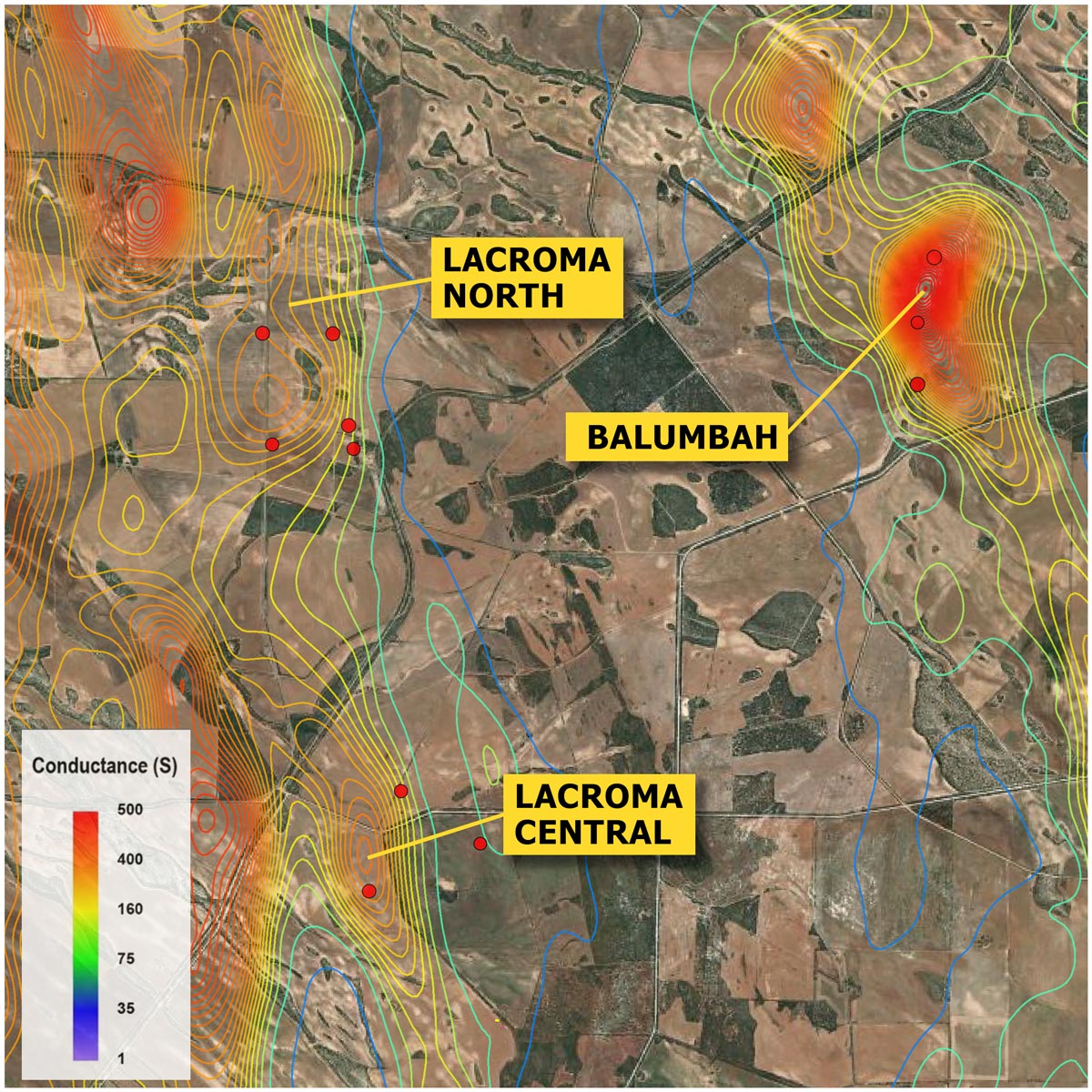 IMAGE: Explore the key data used to generate the graphite drill targets in the vicinity of the Lacroma Central Graphite Prospect
A TIMELINE OF EXPLORATION​
SPHERICAL GRAPHITE
A potential application of the Eyre Peninsula graphite is the manufacture of spherical graphite; a valued commodity manufactured from naturally occurring flake graphite. Spherical graphite has high value applications in the anodes of lithium-ion batteries and demands a price premium of US$3400 to US$4,400 per tonne.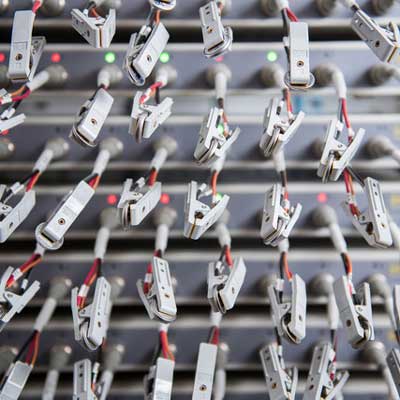 Lithium ion batteries constructed from Campoona Graphite undergoing performance testing
In 2019, Archer Materials undertook a small-scale mechanical mill trial of its flake graphite from the Campoona Project and successfully produced spherical graphite from both its 95% and 99+% purity products.
In 2022, working with partner ANZAPLAN, iTech was able to produce a larger sample of spherical graphite from a 600kg run of mine sample. Importantly the 99.99% purity was achieved with both caustic baking and autoclave assisted caustic leach methods which eliminate the use of hydrofluoric acid. 
Testing of the product confirmed it was within or exceeds all relevant industry standard parameters for lithium-ion battery anode material. High yields of spherical product, of 47%, show the potential for excellent conversion of flake into high value spherical graphite. Additionally, the ability to purify the flake concentrate to 99.99% FC prior to spheronisation, opens the possibility to produce a high value purified fine product rather than the normally low value waste generated during spheronisation.
WATCH: Introducing iTech's plan for becoming a producer of "green" graphite for the battery market. (2:40)
GRAPHENE
While graphite extraction for battery production is one possible application for the Campoona Graphite project, other opportunities exist. Graphene is a manufactured form of graphite a single atom thick. It is an important and high-value emerging technology in electronics, medicine and chemical and industrial industries. The Company could, subject to market demand, produce graphene for this emerging market.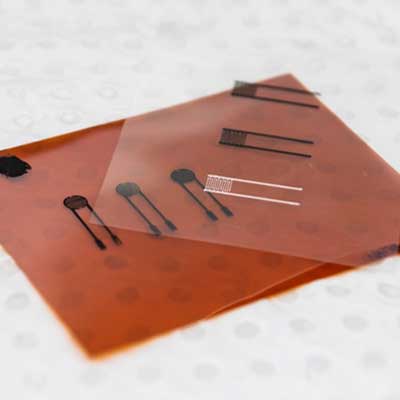 Graphene produced from Campoona Graphite undergoing testing at the University of Adelaide
On a global scale, the Campoona Graphite Project is well positioned to supply increasing demand for Graphite and Battery materials in Asia.
The Project is close to established energy infrastructure,  transportation routes, facilities and shipping options. It is less than 30 kilometres from rail infrastructure and 70 kilometres from the industrial city of Whyalla. Whyalla is a potential location for the construction of a processing plants, while port facilities at Lucky Bay provides an alternative option for direct shipping of ore or processed products.
WATCH: While in the field, iTech Minerals MD Mike Schwarz discussed the new energy infrastructure that will hopefully give $ITM an edge as it continues to progress the Campoona #Graphite Project in South Australia. #RenewableEnergy #Graphite
A source of potable water for wet processing exists at the Campoona Graphite Project, with up to 80 megalitres per annum from the existing SA Water Jamieson Tank mains water system. Additional water requirements may be met with piped mains water, low salinity groundwater and, recycling and filtered processed water.