WATCH: In this Exploration Update iTech's Managing Director Mike Schwarz examines the near surface graphite mineralisation uncovered while preparing the pad for for Drill Hole #118 during the resource drilling at the Lacroma Graphite Prospect. Assays pending.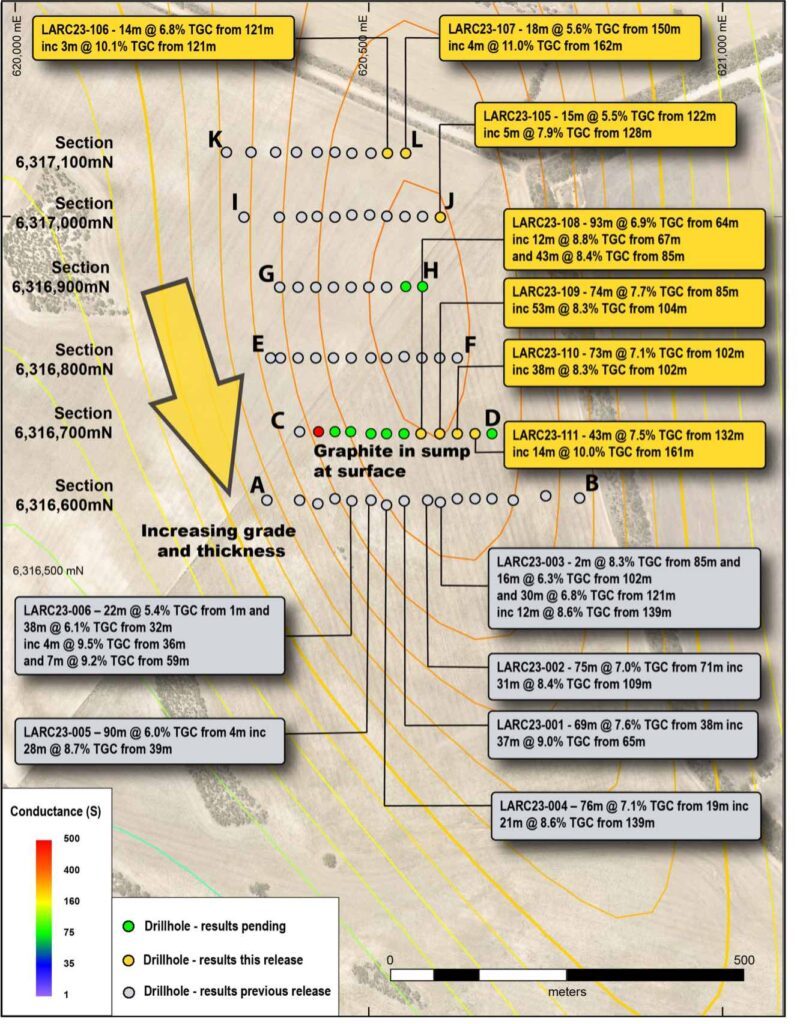 Drill plan of Lacroma Central resource drilling area with latest significant assay results
Significant graphite results from the latest drill assays at Central Lacroma include:
LARC23-108
93m @ 6.9% TGC from 64m
incl 12m @ 8.0% TGC from 67m
and 43m @ 8.4% TGC from 85m
LARC23-109
74m @ 7.7% TGC from 85m
incl 53m @ 8.3% TGC from 104m
LARC23-110
73m @ 7.1% TGC from 102m
incl 38m @ 8.3% TGC from 137m
LARC23-111
43m @ 7.5% TGC from 137m
incl 14m @ 10.0% TGC from 161m
• Drill holes demonstrate increasing thickness and grade from north to south at Central Lacroma Graphite Prospect
• Over 1km of strike remains to be drilled to the south, in the current resource drilling program
• Mineralisation shallows to the west and outcrops at surface
WANT TO GET INVESTOR UPDATES DELIVERED TO YOUR INBOX?
SIGN UP TO THE iTECH NEWSLETTER