The Bartels Gold Project is prospective for epithermal gold within three distinct, low sulphuration, epithermal gold systems: Bartels, Teresa and Patricia. Mineralisation at Bartels occurs within an alteration zone of at least 1.5 kilometres by 1.2 kilometres and extends for an unknown depth. Teresa lies a short distance to the northwest and is defined by a 13.5-kilometre strike length breccia. A second parallel breccia, the Patricia breccia, occurs 4.6 kilometres to the southeast of Bartels.
The best results within the Bartels Gold Project is at the Bartels Prospect. Twenty-nine metres of 0.57 grams per tonne occurs at 79 metre below surface from 5 exploration holes drilled between 2012 and 2014. iTech Minerals believe the opportunity exists to cost effectively follow up previous targets identified by Archer Materials while it has a drill rig in the region drilling for kaolin.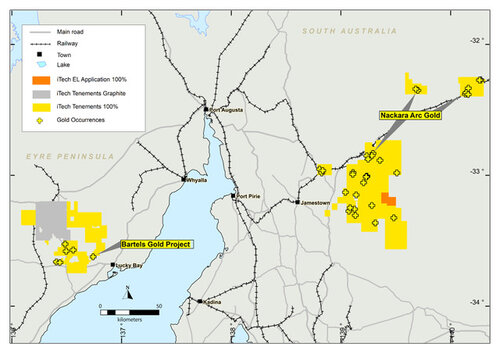 NAME: Bartels
LOCATION: Eyre Peninsula, S.A.
SIZE: 2994 sq km
STAGE: Project Development
TARGET: Halloysite | Kaolinite
ALL OF OUR PROJECTS ON THE EYRE PENINSULA