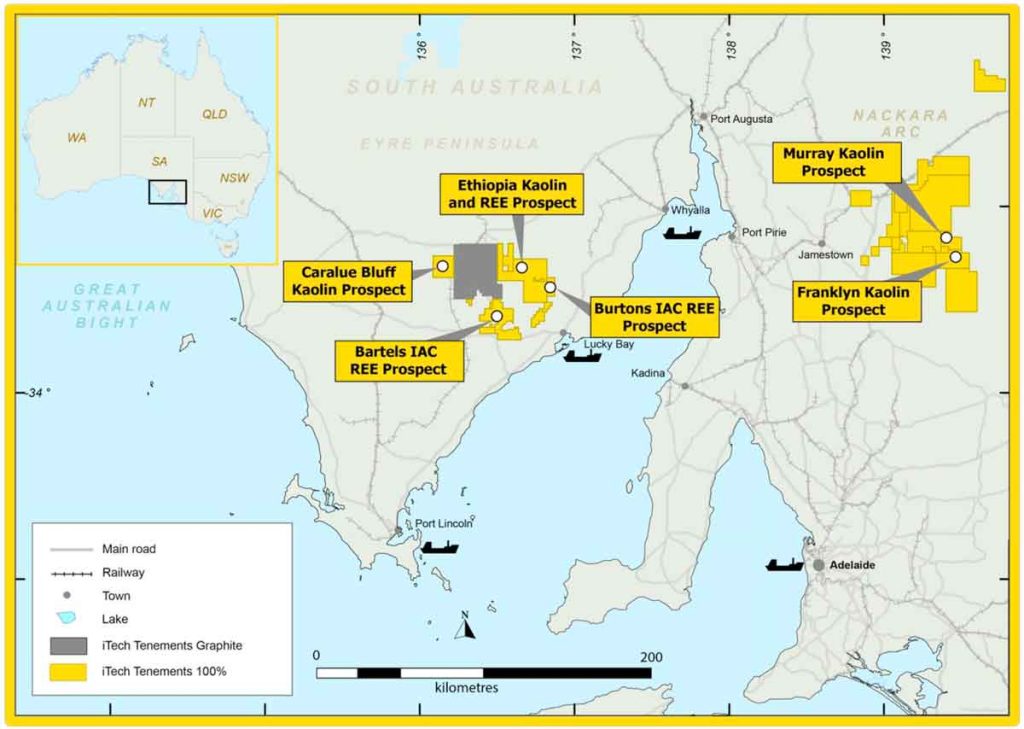 NAME: Nackara Arc
LOCATION: Nackara Arc, South Australia
SIZE: 3430 sq km
STAGE: Early Stage
TARGET: Halloysite | Kaolinite | Copper
Nackara Arc Project covers over 3000 square kilometres across 7 tenements in the Nackara Arc Region of South Australia and is is highly prospective for Kaolin, Rare Earths and Copper.
The project has had a significant amount of historical exploration including at the Franklyn Kaolin – REE Prospect which has a JORC 2012 Exploration Target of 45 to 91 million tonnes of Halloysite-Kaolinite.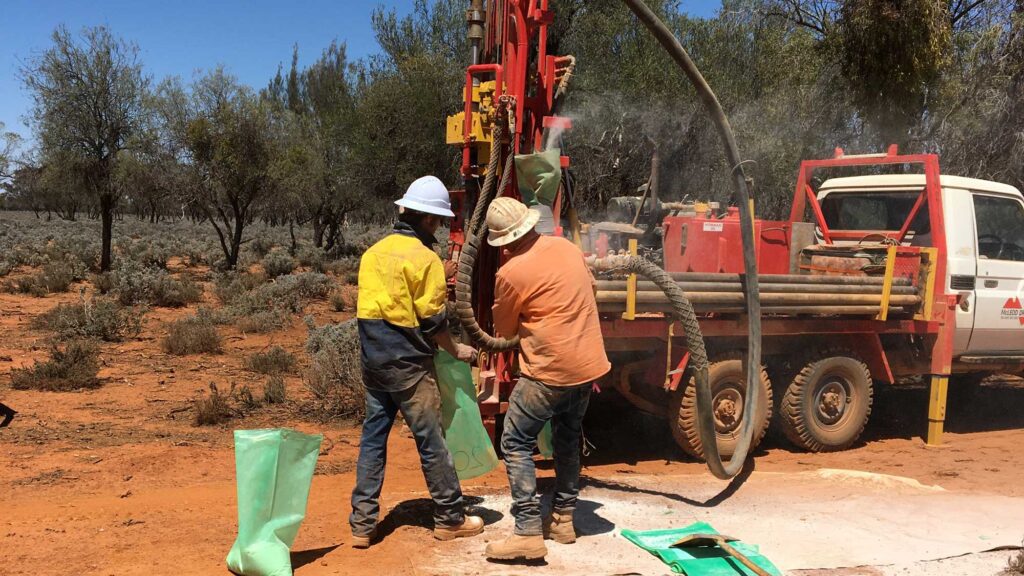 KAOLIN AND RARE EARTH (REE) PROSPECTS
The Franklyn Kaolin-REE Prospect in the eastern part of the project has a JORC 2012 Exploration Target of 45 to 91 million tonnes of Halloysite-Kaolinite. Importantly previous drilling and chemical analysis by Archer Materials of the halloysite-kaolinite from Franklyn confirms it is high purity and high quality. Scanning electron microscopy (SEM) shows the Franklyn halloysite to be single walled elongate nanotubes with a high length to breadth ratio; characteristics valued for nanotechnology applications such as pharmaceuticals, agriculture, cosmetics and many other controlled release applications.
Chemical analysis of the halloysite-kaolinite shows a 30-50% higher aluminum concentration than typical halloysite-kaolinite products making it suitable for feedstock in high purity alumina production. The Franklyn halloysites have large lumens making them additionally suitable for applications requiring a high loading of gas, liquid or nanoparticle and high value ceramics including additives that improve the mechanical reinforcement of advanced composites.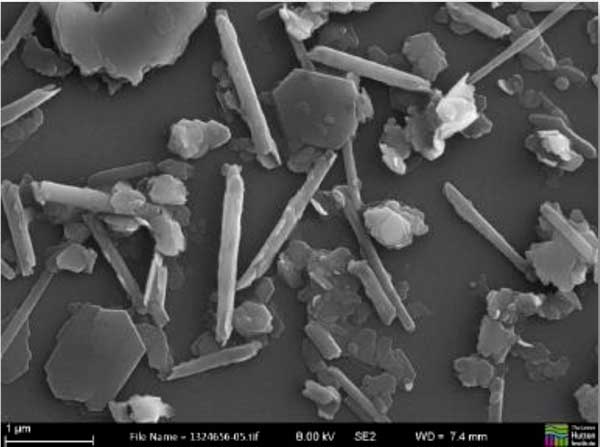 Scanning Electron Microscope images of a sample from drillhole FRAC 19-04 at the Franklyn Halloysite-Kaolinite Project. The image shows both platy and tubular shaped minerals, interpreted as kaolinite and halloysite respectively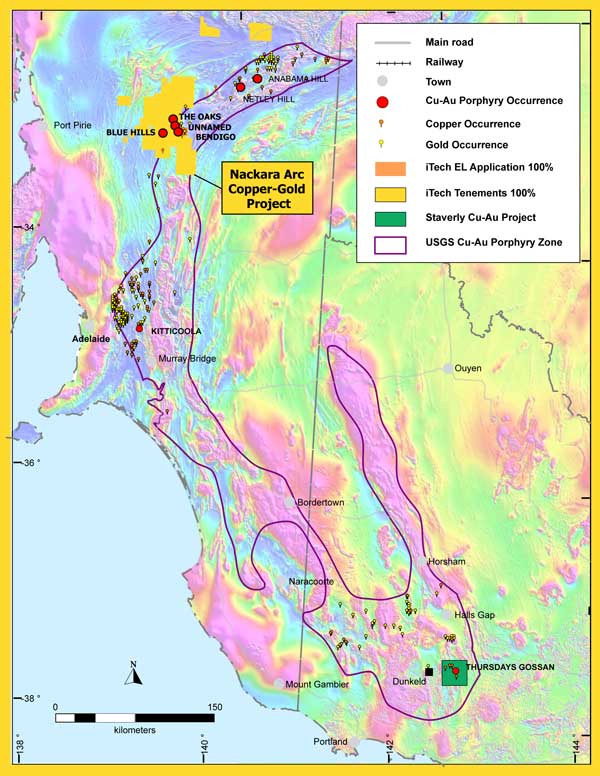 The Nackara Arc Project lies within the Adelaide Geosyncline and hosts many small, predominantly structurally controlled, copper and gold occurrences. The area has numerous historic workings but there has been limited investigations using modern exploration techniques. The Thursdays Gossan discovery by Stavely Minerals (ASX:SVY), as well as other porphyry occurrences, are hosted by the Delamerian Orogen and extend from western Victoria, to eastern South Australia and north to the Koonenberry Belt of western New South Wales.
The United States Geological Survey has proposed a "permissive tract" theory to discover porphyry deposits. One such tract has been identified to extend from the Nackara Arc and into Victoria (see map below), where mineralised (and mined) deposits have been identified as having porphyry characteristics. Significant porphyry copper mineralisation within the Adelaide Geosyncline such as Burra, and the recent Thursdays Gossan discovery, in Victoria, highlight the perspectivity of the belt.
The Company has a large tenure in the South Australian portion of the "permissive" tract where four occurrences of Cu-Au porphyry style mineralisation is known to occur. None of these has been subjected to modern exploration techniques. The Company will undertake low impact exploration of the prospects to define drill targets and potential Thursday Gossan style deposits.
The Rare Earth Elements (REE) are a set of 15 nearly-indistinguishable silvery-white soft heavy metals known as lanthanides, as well as scandium and yttrium. While scandium and yttrium are not lanthanides, they are considered rare-earth elements because they generally occur in the same deposits and exhibit similar chemical properties.
REE's are growing in significance because they are critical components in a lot of renewable energy technology – in particular Praseodymium, Neodymium, Terbium and Dysprosium. These are essential to produce the Rare Earth Permanent Magnets (REPMs) that are used in wind turbines, the drive train of hybrid and electric vehicles, as well as other energy-efficient applications.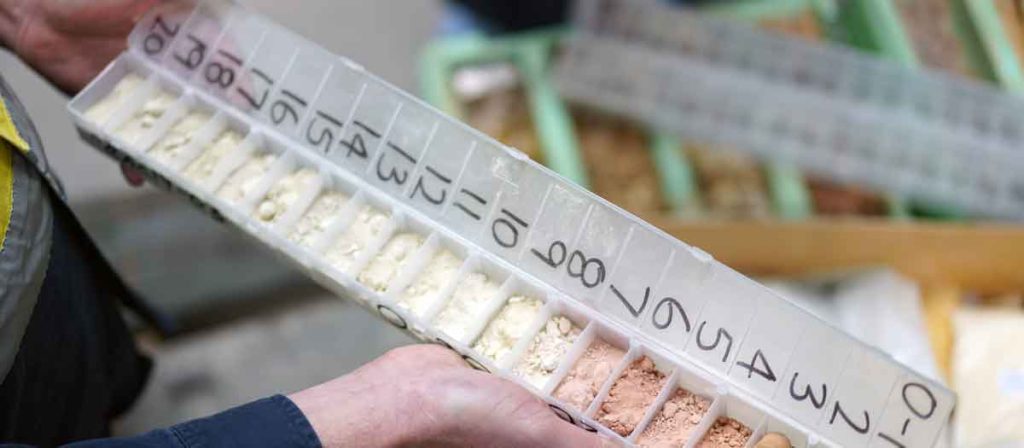 Kaolin and Halloysite have recently emerged as a potential feedstock in processing high-value and hard-to-substitute high-purity alumina that is used in technological applications such as light-emitting diodes (LEDs) and lithium-ion batteries.
Halloysite's nano tubal structures offer additional biomedical and industrial uses over and above its traditional use as an additive to kaolinite in ceramics manufacturing. A market exists for halloysite nanotubes as efficient catalysts in the petrochemicals industry, as an additive in molecular sieves, petrochemical composites, and in non-halogenated flame-retardant synergists and cosmetics. The growing market for halloysite offers significant commercial development potential upon a successful discovery for the Company's halloysite-kaolin exploration programs.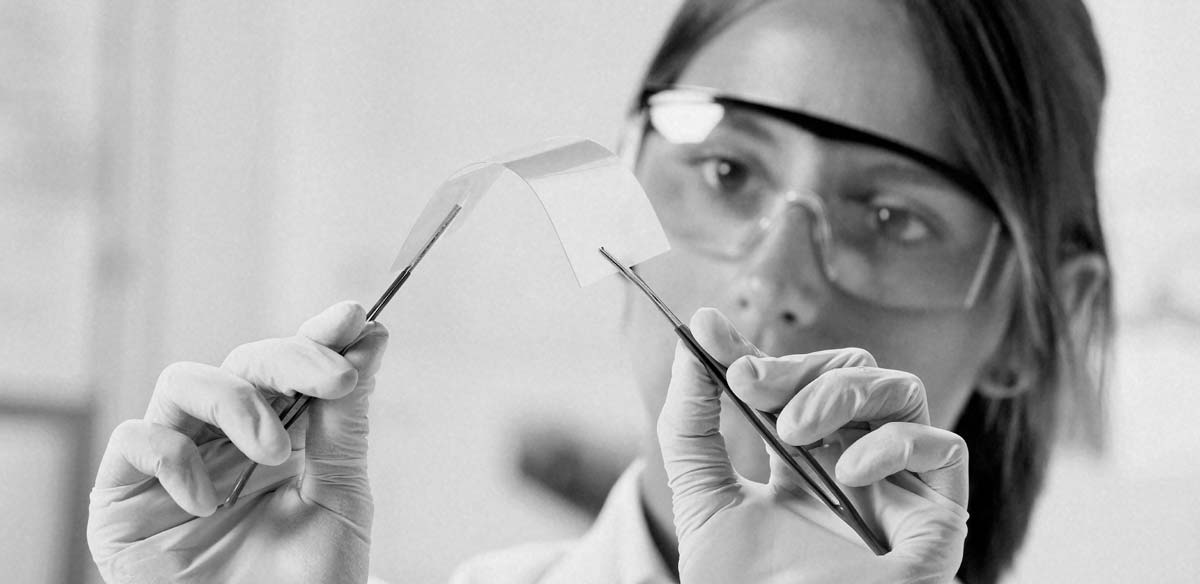 One of the biggest challenges that faces explorers looking for Halloysite-Kaolinite resources is getting fast and accurate analysis in the field rather than waiting on lab's to turn around samples several weeks later. This technology would allow faster and more accurate testing of prospects and more efficient drill programs. iTech is already working with Australia's Commonwealth Science and Industrial Research Organisation (CSIRO) to develop rapid and cost-effective analytical techniques.
We are also exploring new beneficiation and marketing strategies with European-based Dorfner ANAZPLAN, an industrial and battery materials specialist.