Metallurgical tests have achieved high purity fine flake graphite suitable for purified spherical graphite (PSG) production

Average purity of greater than 94% total graphitic carbon (TGC) with estimated recoveries of ~84%

>98% of graphite concentrates are less than 150 μm (small flake size) which is used for PSG production

Results were achieved through conventional graphite flotation process (non-chemical, non-thermal) with potential for improvement from on-going test work

Campoona's metallurgical properties compare favourably to early test work at Renascor's Siviour Deposit just 40km to the south

Bulk sample production (50 kg) for PSG test work is now underway

Planning progressing for resource expansion drilling at the Lacroma Graphite Prospect north of Campoona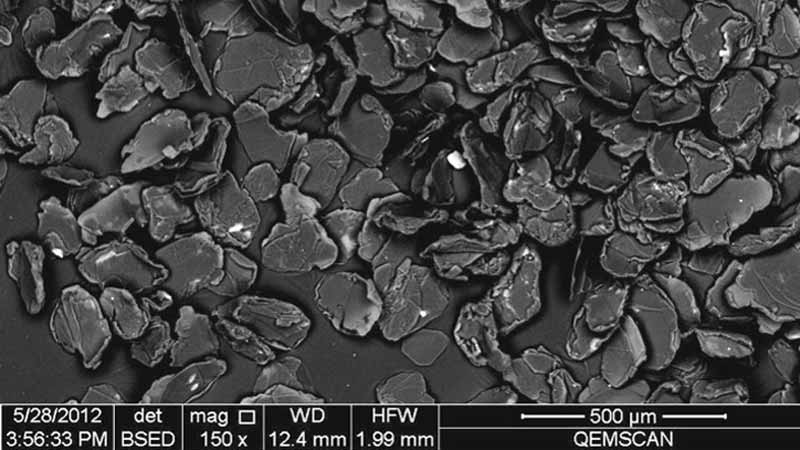 QEMSCAN image of flake graphite
DETAILS:
iTech Minerals (ASX: ITM) has achieved a significant milestone at the Campoona Spherical Graphite Project with the production of a >94% TGC concentrate and recoveries of ~84% using an industry standard flotation circuit.
iTech continues to build its portfolio of critical minerals projects with the production of a high-quality graphite concentrate from a bulk sample (600 kg) of run-of-mine (ROM) graphite ore, delivered to ANZAPLAN in Germany. ANZAPLAN has completed the first stage of metallurgical test work to produce purified spherical graphite for use in the anodes of Lithium-Ion (Li-ion) batteries using a low- cost, eco-friendly processing route with a smaller environmental footprint. This collaboration is building on test work completed by Archer Materials between 2015-2019, where Archer successfully produced battery-grade graphite using a traditional hydrofluoric-acid process.
The Campoona Graphite Project contains a JORC 2012 graphite Mineral Resource of 8.55 Mt @ 9.0% Total Graphitic Carbon (TGC), a granted mining lease and approved multipurpose licences for processing infrastructure and groundwater extraction. iTech is currently investigating the best pathway to produce "green graphite", including the use of abundant renewable energy available in South Australia.
Metallurgical Results
The current metallurgical test program for Campoona has reached a significant milestone with the production of a high-quality >94% flake graphite concentrate, from Campoona, with an estimated recovery of ~84%. This result gives iTech the confidence to pursue a graphite concentrate, for use as a PSG feedstock, with a cost-effective and conventional flow sheet design that doesn't rely on chemical or thermal purification.
WANT TO GET INVESTOR UPDATES DELIVERED TO YOUR INBOX?
SIGN UP TO THE iTECH NEWSLETTER