WATCH Managing Director Discuss this announcements
SUMMARY:
Bulk sample of Campoona Graphite run-of-mine ore received by graphite processing specialist ANZAPLAN GmbH (ANZAPLAN) in Germany

Metallurgical test program underway to optimise production of spherical graphite for anode material in Li-ion batteries

Process to include environmentally friendly, low-cost "green" purification pathway

Test work leveraged off extensive "proof of concept" development work undertaken by Archer Materials

Progressing towards updated scoping study to incorporate new processes
DETAILS:
iTech Minerals Ltd (ASX: ITM, iTech or Company) continues to build its portfolio of critical minerals projects with delivery of a bulk sample (600 kg) of run-of-mine (ROM) graphite ore to ANZAPLAN in Germany. ANZAPLAN has commenced test work on producing spherical graphite for use in the anodes of Lithium-Ion (Li-ion) batteries using a low-cost, eco-friendly processing route with a smaller environmental footprint. This collaboration will build on the test work completed by Archer Materials between 2015-2019, where they successfully produced battery-grade graphite using a traditional hydrofluoric-acid process.
Updates on progress are expected in the coming months with final project results to be delivered within 9 months. Results will be integrated into an updated scoping study to be undertaken in conjunction with the metallurgical test work.
The Campoona Graphite Project contains a JORC 2012 graphite Mineral Resource of 8.55 Mt @ 9.0% Total Graphitic Carbon (TGC), a granted mining lease and approved multipurpose licences for processing infrastructure and groundwater extraction. iTech is currently investigating the best pathway to produce "green" graphite, including the use of abundant renewable energy available in South Australia.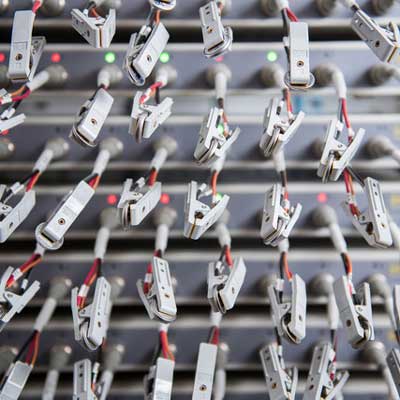 Campoona Graphite undergoing battery testing in 2019. ARC Graphene Research Lab, University of Adelaide.