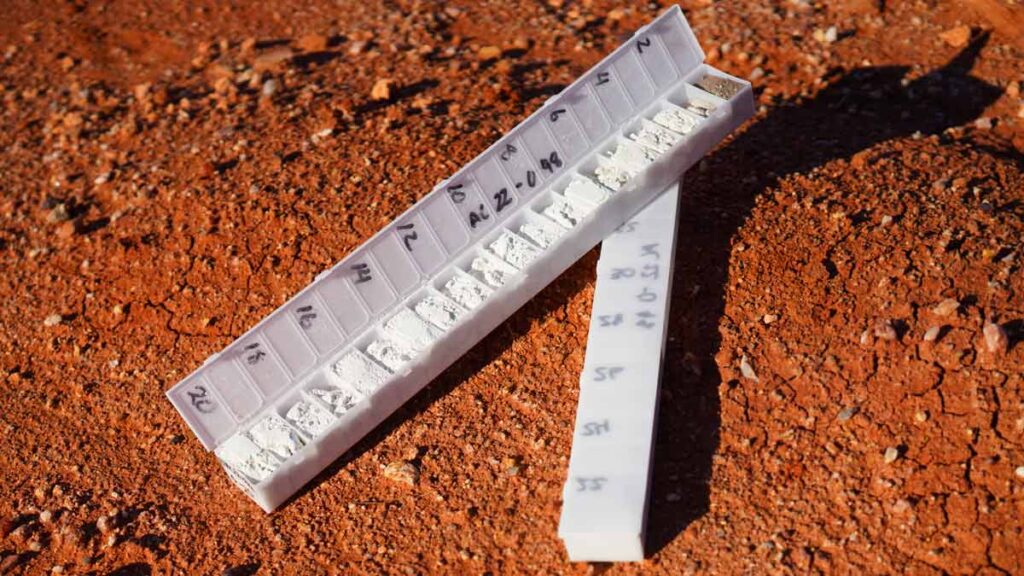 Kaolin and REE rich samples from the Eyre Peninsula REE – Kaolin Project, South Australia
• Final drill results from the remaining 109 drill holes at the Caralue Bluff regolith hosted REE – Kaolin Prospect return thick, high-grade intervals of REE mineralisation in the clay rich weathering profile
• An expansive area of consistent clay hosted REE mineralisation has now been defined over an area of 10 km x 9.5 km which is open in all directions

Intersections include:
o CBAC22-101 – 14m @ 1,148 ppm TREO from 30m
o CBAC22-120 – 9m @ 1,286 ppm TREO from 12m
o CBAC22-144 – 8m @ 1,437 ppm TREO from 10m
o CBAC22-162 – 10m @ 1,157 ppm TREO from 14m
o CBAC22-170 – 5m @ 941 ppm TREO from 20m
o CBAC22-219 – 5m @ 928 ppm TREO from 16m
o CBAC22-229 – 11m @ 1,201 ppm TREO from 16m
o CBAC22-239 – 3m @ 1,282 ppm TREO from 24m
o CBAC22-255 – 11m @ 1,201 ppm TREO from 16m
• These results infill and confirm the high-grade nature of clay hosted REE mineralisation across the prospect
Exploration Results for Rare Earth Element Projects can be a bit more complicated than for projects targeting metals like Gold and Copper. WATCH iTech Minerals Managing Director Mike Schwarz explains what you need to know and what to look out for.
Results from 60 samples from Caralue Bluff are currently undergoing metallurgical test work. Progress has been delayed due to hold-ups at the commercial geochemical laboratories, however, rapid progress is now being made on results. Samples are being tested for their easily leachable REE component with a straight acid leach at pH 1-2 and then for the ionic component with a leaching solution at pH 4 and 0.5M ammonium sulphate.
An additional 60 samples have recently been sent to ANSTO from across projects at Caralue Bluff, Ethiopia, Burtons and Franklyn.
For all potential IAC REE projects, samples are being selected to be representative of the entire range of geological environments within the prospect, not only laterally (east-west and north-south), but also at various levels within the weathering profile (vertically).
WANT TO GET INVESTOR UPDATES DELIVERED TO YOUR INBOX?
SIGN UP TO THE iTECH NEWSLETTER
MORE NEWS FROM THE EYRE PENINSULA PROJECT