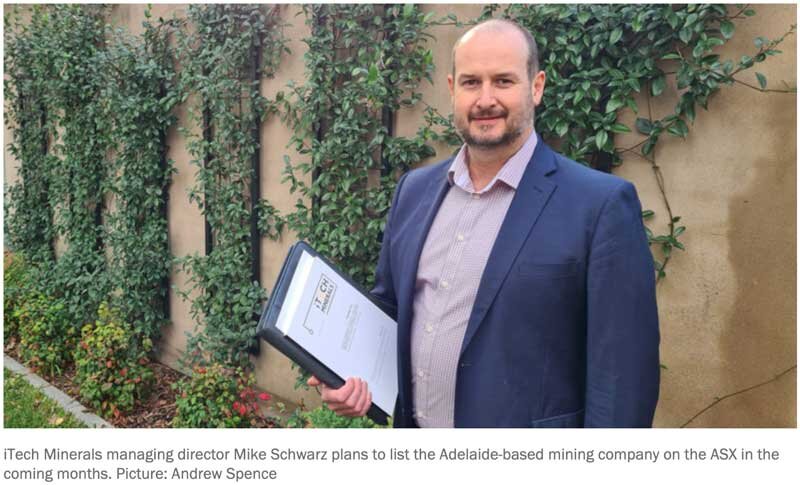 BATTERY METALS COMPANY TARGETS ARCHER TENEMENTS
A new Adelaide mining company is looking to raise up to $7 million so it can take ownership of Archer Materials' exploration assets and list on the Australian stock exchange.
Formed in February, iTech Minerals entered into an agreement with Archer Materials in April to buy its remaining mineral tenements, which include an Eyre Peninsula graphite project and two kaolin-halloysite prospects.
Archer is also selling two graphite tenements to Perth-based NextGen Materials so it can increase its technology focus on the development of a world-first quantum computing qubit processor chip, which includes a partnership with IBM.
The development of quantum computers is envisioned to impact industries reliant on computational power, including finance, cryptocurrency and blockchain.
iTech managing director Mike Schwarz said he hoped to open up an initial public offering (IPO) in late July or early August with a view to listing on the ASX by the end of September.
He said the Archer projects of greatest interest were kaolin-halloysite and graphite tenements on Eyre Peninsula and another kaolin prospect near Peterborough in the Nackara Arc.
"We're taking over their exploration assets and we're primarily looking for halloysite and kaolin and there's a graphite project that's quite advanced as well," Schwarz said.
"We're looking to position iTech as a battery materials company."
Kaolin is a clay used for high-end ceramics. High purity kaolin can also be used for coating applications.
Halloysite is a rare derivative of kaolin that has a number of emerging applications including in batteries, hydrogen storage and air and water purification.
"The kaolin and halloysite have a lot of applications in nanotechnology and you can use the kaolin for making high-purity alumina that can be used in things like scratch-proof glass on iPhone screens," Schwarz said.
"It's also used to wrap lithium-ion batteries in electric vehicles because it's so tough and strong and has a really high melting temperature.
"The more electric vehicles that are built then the more of this material they are going to need."
Archer will receive 50 million iTech shares at the completion of the sale and purchase. The shares will be distributed with each Archer shareholder to receive one iTech share for every 4.6 Archer shares held.
Fellow SA companies Andromeda Metals and Minotaur Exploration have lodged a joint venture application to establish a halloysite-kaolin mine near Poochera on Eyre Peninsula, which they aim to begin operating next year.
The companies also announced last week they had secured off-take agreements with a large-scale Chinese commodity trading house for 70,000 tonnes per annum of refined high purity kaolin for the coatings and polymers market for at least five years.
Andromeda and Minotaur have also partnered with the University of Newcastle in NSW to establish Natural Nanotech to investigate new technology applications for halloysite-kaolin nanoparticles.
Rising commodity prices and demand for critical minerals such as those used in batteries is driving investment in South Australia's resource sector.
Schwarz said "mum and dad" investors and Baby Boomers who were no longer earning any bank interest were either spending their money on their children's house deposits or investing in more speculative stocks in an effort to increase returns.
"The idea of the technology revolution and the energy revolution is sinking in with a lot of people and the fact that we are not going to be relying on coal and oil in the future," he said.
"The latest generation is embracing new technology and I think that is starting to filter through – the fact that we don't have enough companies exploring for the raw materials to supply the technology and the energy requirements we are going to need.
"This knowledge is just starting to become more mainstream and that's why it's getting down to the mum and dad investors."
Schwarz said while traditional precious metals like copper and gold took several years and millions of dollars to advance from tenement to functioning mine, clays such as kaolin and halloysite were found close to the surface and could be mined easily and quickly.
"The costs of mining kaolin and halloysite are so low compared to many other operations that it is quite achievable for a small company to get into, so we are pretty serious about developing projects," he said.
"The graphite is pretty advanced. There's a scoping study on it and there are mining tenements that have been granted so Archer progressed those pretty well.
"Normally with a drilling program for copper or gold you might plan $300,000 to $500,000, but one of these kaolin projects might be $70,000.
"To define a resource for copper or gold you are looking at millions and millions of dollars, but for kaolin you are looking at $250,000 and the timeframes are so much quicker so it's a different ball game completely."
SIGN UP TO THE NEWSLETTER
And get all the latest investor news, video updates and presentations from iTech Minerals straight to your inbox.