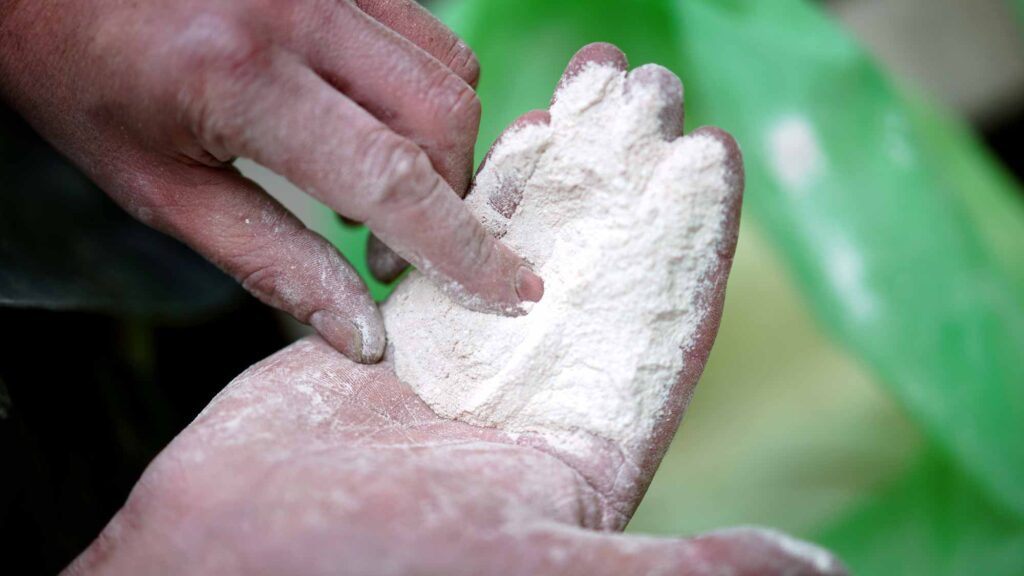 Kaolin and REE rich sample from the Eyre Peninsula Project, South Australia
SUMMARY:
• iTech has commenced second stage metallurgical trials at its Caralue Bluff high purity kaolin and clay hosted REE project on the Eyre Peninsula, SA 
• Early metallurgical results have been received from 19 of the 260 holes (7%) drilled earlier this year, of these only 8 occur within the currently defined exploration target 
• Preliminary leaching test work using standardised leach conditions for ionically bound and colloidal rare earth elements reported maximum recoveries of the magnet REEs of:
  o Nd – 28% 
  o Pr – 31% 
  o Dy – 65% 
  o Tb – 57% 
• Consultation with experts at ANSTO has led to a revised leaching program aimed at improving recoveries by varying leaching conditions with the next round of results expected in the next 4-6 weeks 
• The Caralue Bluff Project has a substantial exploration target of high purity kaolin with associated REE mineralisation of 110 – 220 Mt @ 635 – 832 ppm TREO and 19-22% Al2O3 
• The high purity nature of the kaolin and REE mineralisation allows iTech to explore improved leaching conditions while keeping impurity levels low 
Exploration Results for Rare Earth Element Projects can be a bit more complicated than for projects targeting metals like Gold and Copper. WATCH iTech Minerals Managing Director Mike Schwarz explains what you need to know and what to look out for.
WANT TO GET INVESTOR UPDATES DELIVERED TO YOUR INBOX?
SIGN UP TO THE iTECH NEWSLETTER
MORE NEWS FROM THE EYRE PENINSULA PROJECT