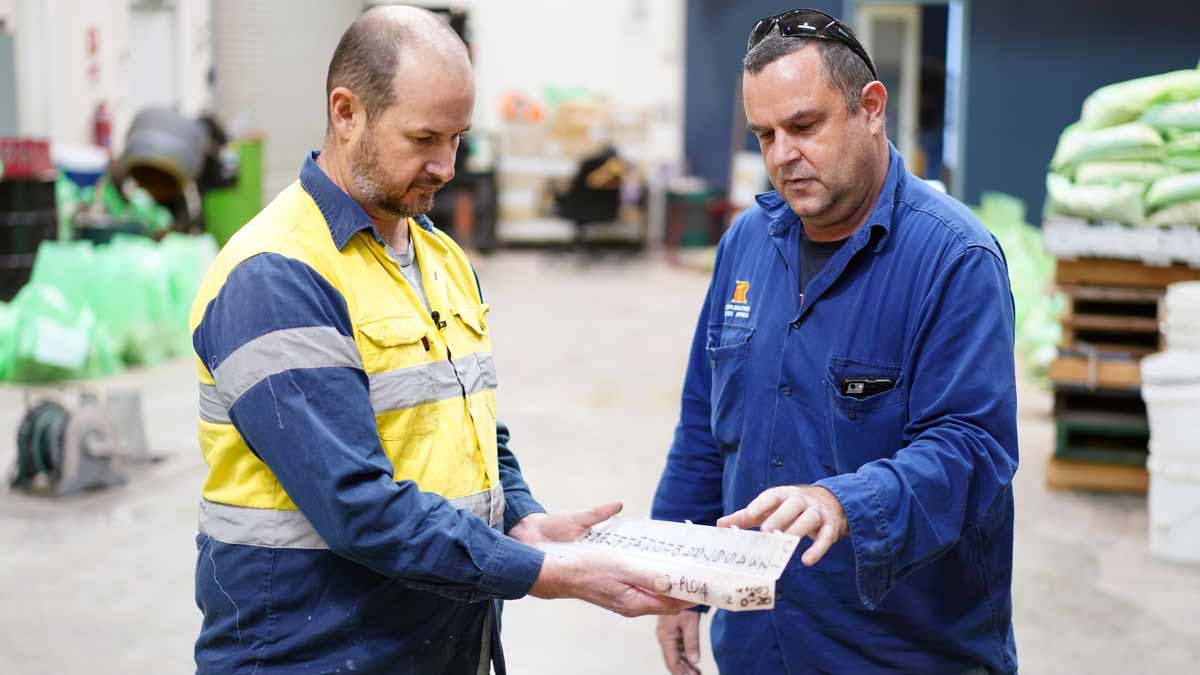 MD Mike Schwarz and Exploration Manager Wade Bollenhagen reviewing historical drill samples
DETAILS:
iTech Minerals Ltd (ASX: ITM, iTech or Company) is pleased to present its inaugural Quarterly Activities Report for the period ended 31 December 2021.
During the December Quarter iTech was admitted to the official list and commenced trading on the ASX, established several prospects prospective for REE ion adsorption clay (IAC) mineralisation, kaolin mineralisation and commenced beneficiation test work on the Campoona Graphite Project.
Ethiopia Kaolin – IAC REE Prospect
iTech sent samples from 23 historical drill holes for kaolin beneficiation test work and REE analysis. The beneficiated samples show thick and extensive REE mineralisation, in the weathered clay horizon, across the prospect. In particular, the results from drill hole ETH-029 demonstrated thick, high-grade rare earth elements (REE) at the end of a line of drilling. The rare earths display enrichment of neodymium and praseodymium (~24% Nd+Pr), which are critical in the production of permanent magnets for electric vehicles and renewable energy. Significantly, the results also demonstrate enrichment of high value heavy rare earths (~34%). The beneficiation process of sieving the bulk sample, to obtain the -45 μm clay fraction, increases the REE grades between 153% – 311%. Having identified extensive enrichment of REE's in kaolinitic clays, across an area in excess of 1.3 km x 1 km, at the Ethiopia Prospect, iTech plans to drill approximately 65 additional holes (Fig. 2). The program is designed to infill and extend the mineralisation to an area of approximately 2.5 km x 1.5 km with a focus on extending high grade mineralisation at the end of historical drilling in ETH-029 which intersected 32m @ 1633 ppm TREO (<45μm).
Burtons IAC REE Prospect
iTech has identified significant rare earth element mineralisation in the clay rich, weathering profile at the Burtons Prospect on the Eyre Peninsula (Fig. 1). The rare earths display significant enrichment of neodymium and praseodymium (~23% Nd+Pr) and also display significant enrichment in desirable heavy rare earth element oxides (~39% HREO) which command a premium price. Historical data, from drilling undertaken by Archer Materials Ltd in 2011, identified thick intervals of up to 32m of REE rich, clay dominant material, over an area extending over 1 km in a north-south direction (Fig. 3). Of the 19 drill holes drilled, 15 holes had high levels of REE mineralisation consistent with ion adsorption clay (IAC) style mineralisation. The historical drilling had best results of
SRC11-016 – 23m @ 1065 ppm TREO from 12m
o including 4m @ 3019 ppm TREO from 20m 

o and 4m @ 1090ppm TREO from 28m
Caralue Bluff Kaolin Prospect
The Caralue Bluff Prospect has bright white kaolin confirmed in drilling at <10m depth, up to 17m thick, in two drill holes over 5 km apart. Historical partial chemical and mineralogical analyses of the bulk raw clay from one drill hole recorded relative high kaolinite content (~70%) with total Fe2O3 of 0.55% and raw brightness of 87% according to the TAPPI 646m-54 standard. The high purity and brightness of this material makes it well suited to high purity alumina feedstock, paper coating and filler applications (ASX Release, Replacement Prospectus, 19 October 2021). The Company has an extensive drilling program planned to cover an area of 12km x 12km for a total of approximately 194 holes (Fig. 4). In addition to the two drill holes that intersect bright white kaolin, numerous dams and council rubble pits in the region reveal white kaolin exposed at surface.
Campoona Graphite Project – Metallurgical and Spherical Graphite Test Work
iTech continues to build its portfolio of critical minerals projects with delivery of a bulk sample (600 kg) of run-of-mine (ROM) graphite ore to ANZAPLAN in Germany. ANZAPLAN has commenced test work on producing spherical graphite for use in the anodes of Lithium-Ion (Li-ion) batteries using a low-cost, eco-friendly processing route with a smaller environmental footprint. This collaboration will build on the test work completed by Archer Materials between 2015-2019, where they successfully produced battery-grade graphite using a traditional hydrofluoric-acid process.
The Campoona Graphite Project contains a JORC 2012 graphite Mineral Resource of 8.55 Mt @ 9.0% Total Graphitic Carbon (TGC), a granted mining lease and approved multipurpose licences for processing infrastructure and groundwater extraction. iTech is currently investigating the most effective pathway to produce "green" graphite, including the use of abundant renewable energy available in South Australia.
ANZAPLAN is undertaking a bench scale metallurgical test work program for the development of a beneficiation process capable of upgrading iTech Minerals' bulk graphite mineral sample(s) into high value saleable products including graphite concentrate and purified spherical graphite for use in anodes of Lithium-Ion Batteries.
The proposed test work program comprises the following processes:
Review of historical test work data

Development of a beneficiation process (flake graphite)

Flake graphite sample production (50 kg)

Screening of alternative (non-HF acid) chemical purification routes

Optimisation of chemical purification

Spherical graphite sample production (2 kg)

Confirmation of purification of spherical graphite
Corporate
Attached to this report is the Company's Appendix 5B setting out iTech's cash flow statement for the quarter. The significant cash outflows during the quarter include:
– $684,000 spent in relation to expenses associated with the IPO.
– $364,000 spent in relation to exploration activities; and
– $84,000 in payments to related parties. These payments relate to payment of director fees to executive and non-executive directors.
At the end of the December 2021 quarter the Company had cash at bank of $5.95 million.
Pursuant to ASX listing rule 5.3.4, the Company advises the proposed use of funds contained in section 2.4 of iTech's Replacement Prospectus in comparison to the actual use of funds following admission to the official list of the ASX.
SIGN UP TO THE NEWSLETTER
And get all the latest investor news, video updates and presentations from iTech Minerals straight to your inbox.