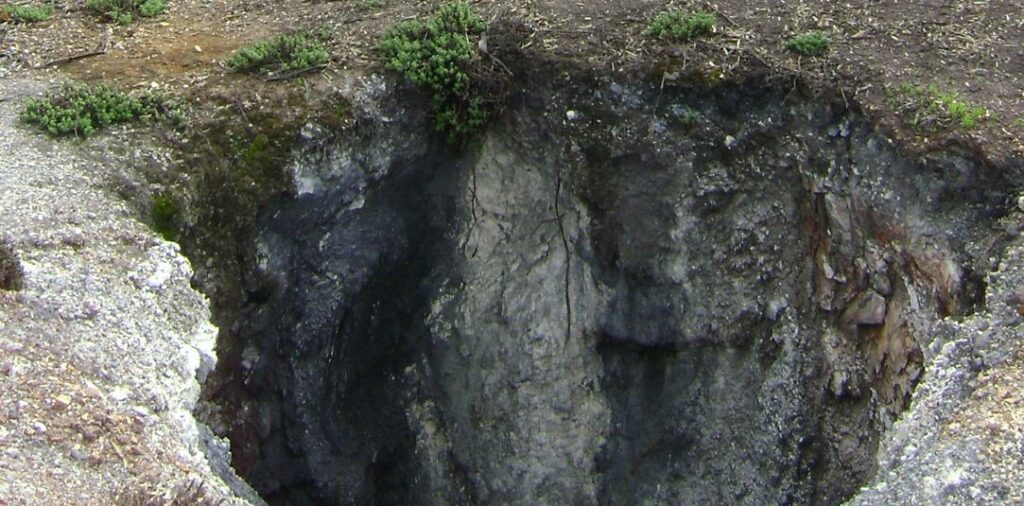 Top of Sugarloaf Hill, historic graphite mine shaft
• Sugarloaf Graphite re-classified as a micro-crystalline flake graphite
• Average flake size varies from 11μm to 30μm based on scanning electron microscope and petrological analysis
• Opens the pathway to produce a premium battery anode material using an optimal micro-crystalline flake size
• Next steps for Q1 2023
Working with our partners ANZAPLAN, in Germany, to develop a flow sheet to produce a high-grade concentrate with economic recoveries

If successful, undertake further optimisation, purification and spheroidisation test work

Undertake a 2,000m reverse circulation drilling program to test the extents of graphite mineralisation at the Sugarloaf Prospect
• Sugarloaf has a Graphite Exploration Target of 158 – 264 Mt @ 7 – 12 % TGC
Sugarloaf Graphite Prospect
The Sugarloaf Graphite Prospect is located approximately 30 km north-west of Cleve on the central Eyre Peninsula and is directly adjacent to iTech Minerals Ltd's (ASX: ITM, iTech or Company) proposed graphite processing plant for the Campoona Spherical Graphite Project. The graphite at this location occurs within the Paleoproterozoic Hutchison Group Metasediments and is likely to have formed from organic rich stratigraphic horizons metamorphosed during regional upper greenschist to lower amphibolite facies metamorphism during the Kimban Orogeny. The graphite rich horizon forms a largely flat lying, shallow anticlinal structure as interpreted from drilling and detailed airborne and ground-based electromagnetics.
Historical interpretations of the Sugarloaf Graphite Prospect
Archer Materials explored the Sugarloaf Graphite Prospect between 2008 and 2014. The project was initially investigated as a potential source of high-value coarse flake graphite for use in the more traditional foundry, refractory and steel making industries. However, due to its fine flake size, the prospect was not deemed to be of high enough value to progress. It should be noted that, at this time, the value of fine to microcrystalline flake graphite as a source for battery anode material had not been well understood. The prospect was then investigated as a carbon-based soil conditioner/fertiliser based on a study undertake by the University of Adelaide that suggested that Sugarloaf was composed of a unique form of non-graphite carbon with high resistivity. The prospect was interpreted as an "immature" graphite that had not been subjected to the metamorphic conditions required to form crystalline graphite (Archer Materials ASX Release: 29 June 2015).
Current Metallurgical Investigations
iTech is currently part way through a program of sighter metallurgical test work to determine if Sugarloaf graphite may be a suitable feedstock to produce battery anode material.Our initial findings suggest that the previous interpretation of Sugarloaf being formed from a unique form of non-graphite carbon with high resistivity is not correct. iTech believes that Sugarloaf is primarily conductive, crystalline flake graphite for the following reasons.
All graphite analysis undertaken on drill core is done using an analytical technique that specifically targets only graphitic carbon, called total graphitic carbon (TGC). Hydrochloric acid (50%) is used first to leach any carbon present as carbonate minerals. The sample is then roasted at 4200C driving off any organic carbon. At this stage all residual carbon should be graphitic and is measured by induction furnace/infra-red. Therefore, all drill results at Sugarloaf are only reporting graphitic carbon and not non-graphitic carbon as suggested.
It was also suggested that the carbon at Sugarloaf was resistive and not conductive. It can be shown from airborne electromagnetic surveys of the prospect that the graphitic horizons form a very conductive, shallow, sub-horizontal layer that coincide with high TGC values in drill core. This suggests that we are measuring only the conductive, crystalline, flake graphite component of the prospect.
These observations are supported by additional petrographic and scanning electron microscope analysis of the fine flake graphite at Sugarloaf.
Next Steps
Now that the nature of the graphite at Sugarloaf has been confirmed as a microcrystalline flake graphite like several other battery anode material projects, iTech Minerals has engaged ANZAPLAN, a specialist graphite materials consultancy in Germany, to undertake a modified metallurgical test work program, on Sugarloaf graphite. The aim of the modified program is to determine if the microcrystalline Sugarloaf graphite can be processed into a concentrate suitable for battery anode material.
iTech has received final government and landowner drilling approvals across the Sugarloaf Graphite Exploration Target with a view to commencing the 2,000m drilling program in early January once the local grain harvest has been completed.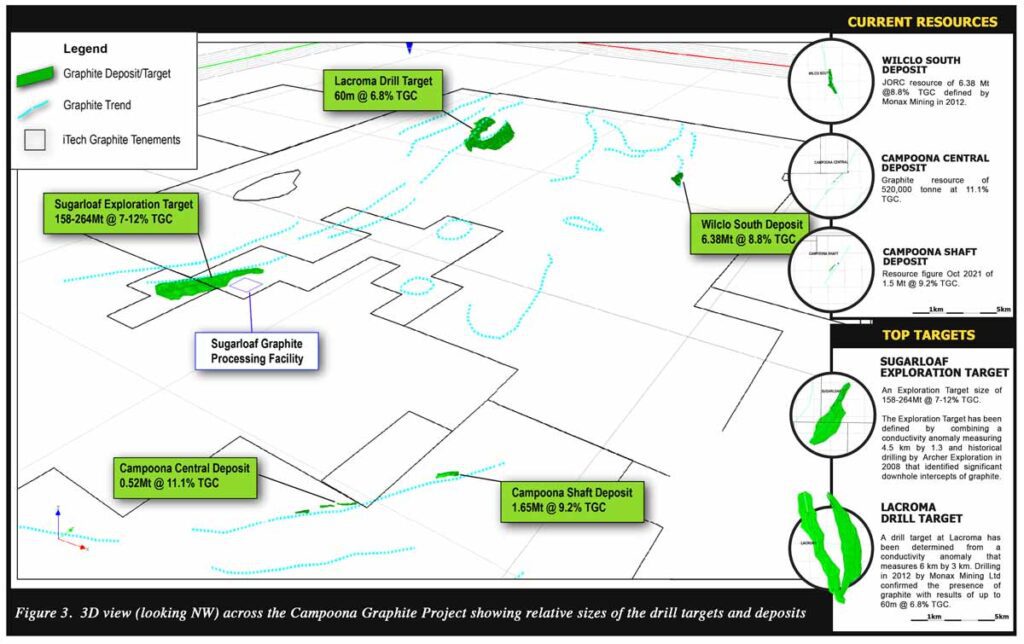 3D view looking NW across the Campoona Project showing the relative sizes of the drill targets.
WANT TO GET INVESTOR UPDATES DELIVERED TO YOUR INBOX?
SIGN UP TO THE iTECH NEWSLETTER
MORE NEWS FROM THE CAMPOONA GRAPHITE PROJECT