WATCH iTech MD Mike Schwarz's Exploration Update Video and get more details on the drilling program at the Sugarloaf Graphite Prospect. (7min)
Drilling has commenced at the Sugarloaf Graphite Prospect on the Eyre Peninsula
Extensive program with over 12,000m of drilling planned with additional metallurgical test work
The drill rig has started exploration drilling at Sugarloaf (2,000m, metallurgical test work underway) to test the extent of graphite mineralisation and obtain further sample for metallurgical test work
The Sugarloaf Graphite Prospect has an Exploration Target of 158-264 Mt @ 7-12 % TGC determined from drilling and a conductivity anomaly measuring 4.5 km by 1.3 km (see ASX release 19 September 2022)
Drilling will then move to Lacroma (10,000m), where metallurgy has confirmed graphite mineralisation can produce a high-quality concentrate
The Lacroma Prospect extends across a conductivity anomaly measuring 6km by 3km with graphite outcropping at surface and confirmed by drilling with 60m @ 6.8% TGC (see ASX release 4 October 2022)
iTech has placed its kaolin and clay hosted REE exploration on hold to focus on graphite
Drill Targets
The Company has modelled several of the most significant airborne electromagnetic anomalies that have a confirmed source of graphite mineralisation, to determine the best location to add additional graphite resources to iTech's current inventory. As a result of this process, two prospects stood out as having significant potential for both tonnage and grade. An Exploration Target at Sugarloaf of 158-264 Mt @ 7-12 % TGC was determined from drilling and a conductivity anomaly measuring 4.5 km by 1.3 km and was reported to the ASX on 19 September 2022. A drill target at Lacroma determined from drilling and a conductivity anomaly measuring 6 km by 3 km and was reported to the ASX on 4 October 2022. Limited drilling to date at the Lacroma target has prevented determination of an Exploration Target, however, planned drilling will provide the necessary information.
Drill Program
iTech is pleased to announce it has now commenced drilling at the Sugarloaf Graphite Prospect. Once completed, the drill rig will immediately move to Lacroma.
iTech has plans to drill over 12,000m on the Eyre Peninsula graphite prospects. Each hole is expected to average 150m in depth.
The Company has commenced this next phase of drill testing at Sugarloaf with exploration drilling of up to 2,000m to confirm the extent of graphite mineralisation and obtain further samples for metallurgical test work. Samples from Sugarloaf have undergone metallurgical test work. This test work is preliminary in nature and is not aimed at producing a battery grade spherical product. The purpose of this test work was to determine if the graphite at Sugarloaf had the right properties to be able to produce battery anode material (see ASX release on 16 December 2022, Sugarloaf Graphite Metallurgy update). This work was successful, and has been confirmed that Sugarloaf consists of a fine crystalline flake graphite. Further test work is now being planned to determine what kind of processing will be required to produce a fine flake concentrate with suitable grade and recoveries.
The drill rig will then move to Lacroma and start at Lacroma West where graphite is known to outcrop above the conductivity anomaly. Several test holes will also be drilled into Lacroma East, which is expected to be deeper, to confirm the anomaly is caused by graphite and determine the depth to mineralisation. Most of the drilling will focus on Lacroma with 10,000m planned, where metallurgy has confirmed graphite mineralisation can produce a high-quality concentrate.
The combined program is expected to take up to 10 weeks to complete with assay results released regularly as drilling progresses.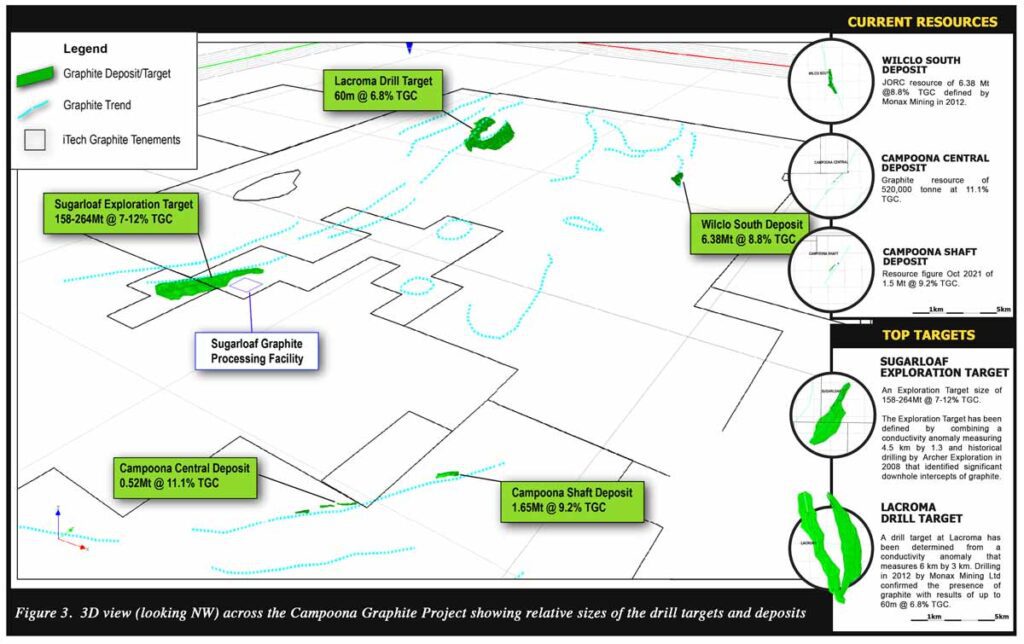 3D view looking NW across the Campoona Project showing the relative sizes of the drill targets.
MORE NEWS FROM THE CAMPOONA GRAPHITE PROJECT
WANT TO GET INVESTOR UPDATES DELIVERED TO YOUR INBOX?
SIGN UP TO THE iTECH NEWSLETTER